Recently many people have been complaining about Outlook won't open on iPhone and iPad. Outlook is a great app that has settled its credibility over time for sending emails in no time. It isn't just that. People are able to synchronize their contacts, planners, calendars, etc.
They just like to tap on their Outlook app and want to send email in one touch. But what if this easiest process is no longer working. What if Outlook will not open on iOS device?
There are plenty of reasons that can stop the Outlook app on iPhone. Sometimes Microsoft server is down. There can be an issue with your internet connection or iPhone app settings that Outlook is not opening on your device. Hence, we have given you 7 proven solutions to this problem that will get your Outlook app back on track.
Turn Airplane Mode on and then turn it off on your iOS Device
By refreshing the Airplane mode you may start getting emails again and may solve your problem. Turning Airplane Mode off and then on again will refresh all the connectivity such as Bluetooth, Wifi, and Mobile Data.
To do that:
On iPhone, swipe down from the top right side and tap on Airplane Mode.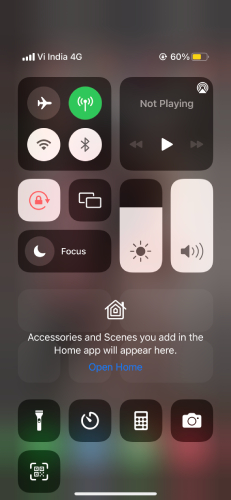 Or you can go to the Settings and find Airplane mode and click on it.
After few seconds or a minute, turn it back off.
Now, make sure that your internet is connected and working properly so that you may check whether Outlook has started working or not.
Clear the Browser cache from your iPhone
It is one of the best tried and tested tips if your Outlook app will not open on your device. You need to clear your browser's history and cache.
Go to the Settings and tap on Safari.
Now, Click on the Advanced and then tap on the Website Data.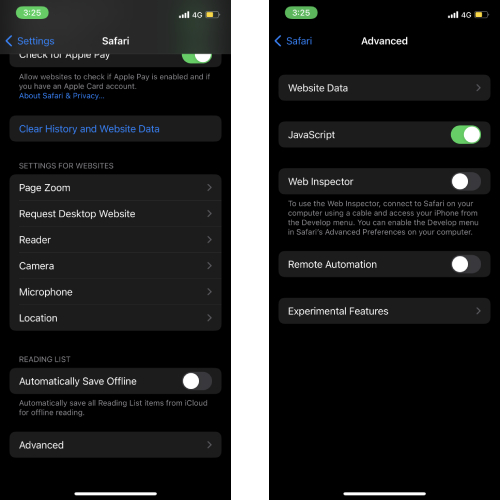 Click on Remove All Website Data and then tap on Remove Now.
This is how you will erase all the cookies from your iPhone but still, you will be able to keep the browser history. Now, open the outlook app to check if it started working or not.
Reinstall the Outlook App
Reinstalling the app might solve the problem as there can be a problem with the outlook configuration. When you install an app, you change its settings according to your priority and choices.
Reinstalling the Outlook app from the apple store may reveal all the hidden options. There is a fair chance that you messed up the app setting.
Some technical glitches in apps also prevents app from working properly. So reinstalling the Outlook is a great option.
To re-install the app you have to uninstall Outlook on your iPhone and then install it.
Go to the Outlook app and hold your finger on it.
A pop-up windows will appear on your screen and asking to Remove App.
Tap on Remove App and then tap Delete App and again tap Delete from your iPhone.
Now, Go to the iOS App store and reinstall the Outlook App.
Now, Add your credentials to sign in and see if you are still unable to log in Outlook.
Delete Outlook Mail Account from iPhone
If Microsoft Outlook App is not opening, there can be a change in the internal setting from the iPhone settings. The iPhone settings have an option of Mail, where all the accounts that you have logged in on your iPhone show up.
That is where you can remove your Outlook Account to resolve Outlook not working issue.
Open the Settings and scroll down to find Mail.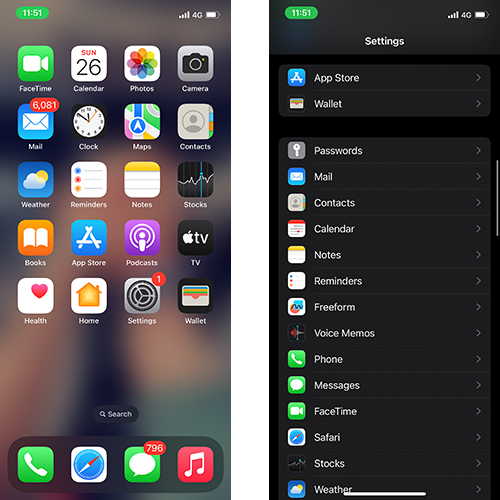 Tap on Mail and then tap on Accounts.
Accounts will open and tap on Outlook.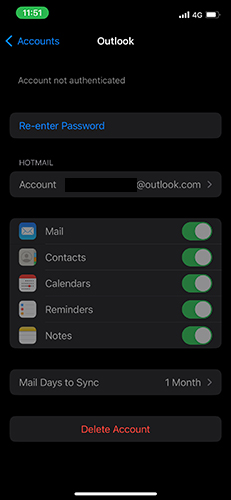 Click on Delete Account and then tap on Delete from my iPhone.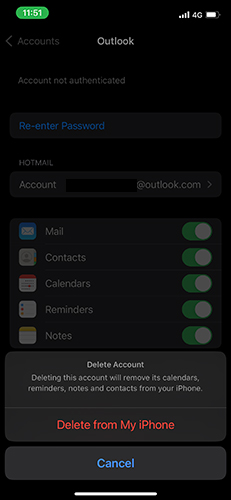 Then go to the Outlook App and log in to your Outlook Account again and see if it has started sending and receiving emails.
Set Date and Time to Automatic if your Outlook will not open
This is a simple yet effective solution to get an app back on track. You can set your date and time to automatic and receive and send the emails in real-time according to your time zone.
Fire up Settings and tap on General.
Find Date & Time and click on it.
Tap on Set Automatically.
Now restart your iPhone and then make sure your iPhone is connected to the internet.
Now open the Outlook app to see if the problem is resolved or not.
Update your iOS with latest version
It is possible that you are using the old version of the iOS that is not compatible with the latest version of the app. There are many apps that require your iPhone software to update in order to function properly.
Fire up iPhone Settings and click on General.
Tap on the Software Update and then tap on Download and Install.
This option is only used in an extreme situation when all other options have failed.
Last Resort: Reset All iPhone Settings
To reset your iPhone settings to default, go to the Settings and tap on the General.
Now, find and click on Transfer or Reset iPhone.
Tap on Reset and select Reset All Settings.
Enter the passcode in order to grant admin permission.
It will restart your iOS device automatically. Now check your internet connectivity and start the Outlook App to see if your problem is resolved or not.
Conclusion
Try all the above solutions, The best solution is to remove and reinstall the Outlook app from your iPhone.
There can be some issue with the Outlook App version that you are currently using, or simply the technical glitches prevent Outlook from sending and receiving emails.