Be it accessing your files, browsing the net, using your MacBook for entertaining purposes, or carrying out any simple routine tasks, you can't use your system without the trackpad. You can use external Mouse sometimes, but no one likes to resort to it. Besides, using key combinations cannot entirely replace the trackpad function, nor will it make your work easier even if you are a tech freak. It is annoying when you want to use your device, and the trackpad does not work. Mac users often face the issue. So, we have covered you all if you are struggling with MacBook Trackpad is not clicking.
It might be that your trackpad has dirt and grime, and in that case, you should clean it up with a dry or lint-free cloth. Other recent app installations, not installing upgrades, and improperly setup settings also responsible for this issue.
There are several reasons responsible for MacBook Trackpad Not Working. All of the factors vary as per your usage and device configurations. Depending on them, you can fix MacBook or MacBook Pro Trackpad issue by the following methods!
Disable Force Click from your MacBook
You might not often, but often Force Click is enabled on your MacBook. When it is enabled, you must press the trackpad rigidly to detect a touch. Thus, normal clicks would not be registered on your device if turned on.
Follow the steps given below to disable Force Click on MacBook:
Press the Apple Logo and go to System Preferences.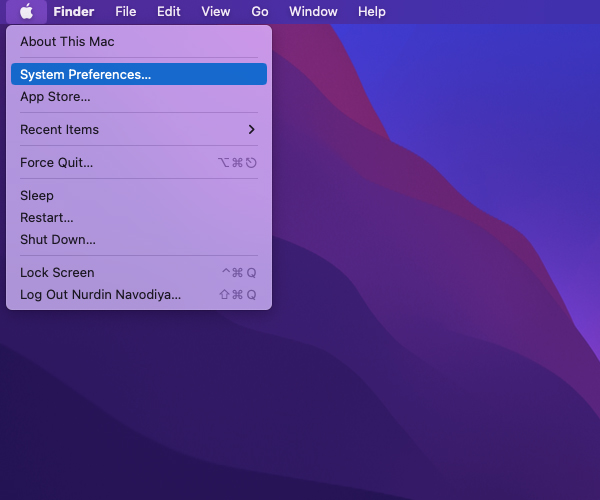 Click on Trackpad and navigate to Point & Click Tab.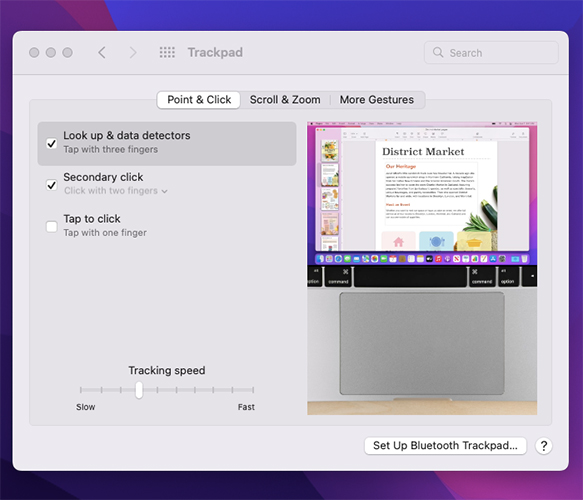 Toggle Off the Force Click and Haptic Feedback option.
However, if Force Click is not enabled, the System Preferences settings would be improperly configured. You have to check it.
Check System Preferences on Mac
Several options in System Preferences tend to mess up your Trackball functioning and thus lead to the issue. So, you can browse through the System Preferences to check if any option is improperly configured or not.
Connect an External Mouse to fix MacBook Trackpad issue
Connecting an external mouse is the simplest way not to let your chores suffer. You cannot afford to lose time to fixing up the trackpad when you are all piled up. So, connect an external mouse until you resolve the trackball not clicking issue.
Reset Factory Settings for Trackpad
You would personalize your Mac to get the best user experience with your prerequisites. Often any such trackpad settings would lead to the issue. To resolve them, you can reset Trackpad Settings to default. Many users reported that it had fixed their Trackpad not working issue.
Follow the steps given below to reset trackpad settings to default:
Head over to System Preferences.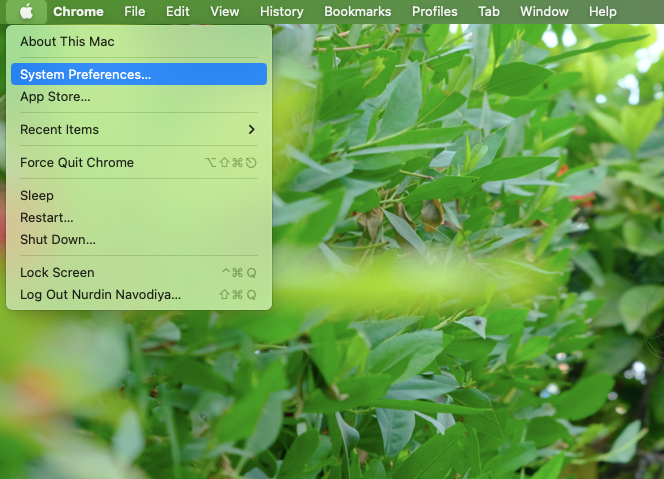 Go to the Trackpad option.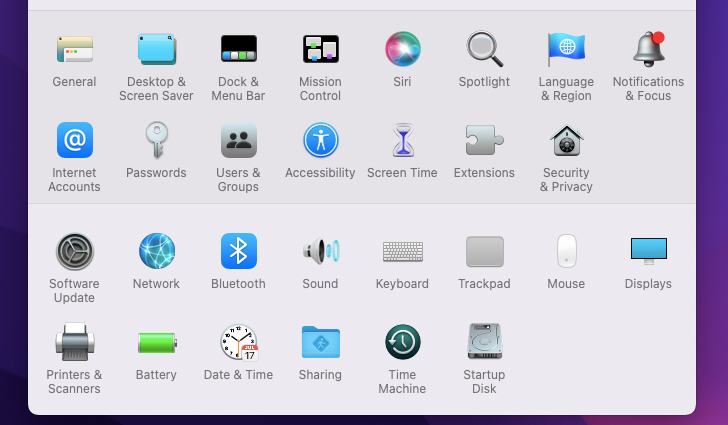 Uncheck the "Tap to Click" and Scroll Direction Settings checkbox to reset the trackpad settings to default.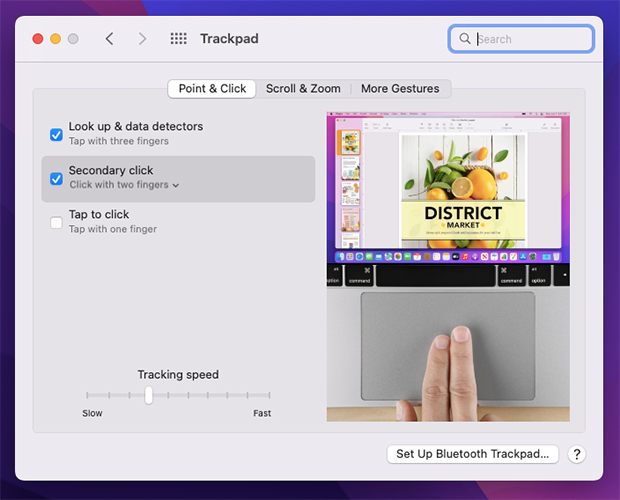 If that does not work, nothing is wrong with your Trackball Settings so that you can reset the Non-Volatile Random Access Memory or Parameter Random Access Memory.
If you are a knack for technical stuff, you would often reset NVRAM or PRAM on your Mac to resolve any errors.
Reset NVRAM OR PRAM to resolve any errors
However, if you have not, follow the steps below to reset it on your MAC!
Turn off your MacBook.
Afterwards, press the power button to turn in on.
While doing so, press Command + P + R keys simultaneously for up to 15-20 seconds to boot your device.
The moment you hear the chimes, it indicates that your NVRAM or PRAM has reset to default.
Reset the SMC (System Management Controller)
Another method you can use is to reset the System Management Controller or SMC to resolve several problems on your Mac, including the Trackpad not working. The method to reset SMC differs as per how old your Mac is.
Use or run Apple Diagnostics Tool on MacBook
MacBook has an inbuilt Diagnostic tool that detects problems, and you can fix them.
Follow the steps given below to run the Apple Diagnostics tool:
Hold the power button to turn off MacBook.
Immediately press the D key from the keyboard, and it will boot.
The moment you see a dialog box asking you to choose a language, release the D key.
Choose the language and press the OK button.
Apple Diagnostics tool will now run and detect your system. You will further be prompted to fix the issue that it detects.
Update your MacBook with latest macOS
Every device receives frequent updates. When you follow them up timely, you get rid of unprecedented errors on your device. Similarly, for your MacBook to perform optimally, you should update it. Check for any updates and download them.
Reinstall Macintosh OS with Recovery
Mac work on the Macintosh Operating System. In case of bugs, re-installing Macintosh with Recovery Mode helps eliminate glitches and will help you get rid of the Trackball error.
Follow the steps given below to reinstall macOS in Recovery Mode:
Switch off your MacBook and press its power button.
At the instant, press the Command + R keys simultaneously.
As soon as the Apple logo appears, release the keys.
You might be prompted to enter the password if any.
The Recovery Mode menu pops up.
Now, navigate to Reinstall macOS.
All the methods mentioned above will help you eliminate the problem. However, if somehow it does not work, then there is something fishy with your Mac's Hard Disk.
Format your Hard Disk
Before proceeding with this method, you must know that it will clear all your data. Further, as necessary, you should backup your data to a Cloud Drive and then erase the data on Hard Disk by formatting it!
Follow the steps given below to format your Hard Disk to solve the Trackpad not clicking issue on MacBook:
Turn off your MacBook.
Now, press the Power button to boot it up.
Immediately press and hold the Command + R buttons simultaneously.
Apple logo appears on your screen, then release the keys.
The Apple Recovery Mode appears; head over to Disk Utility in it.
Click on Macintosh HD system drive.
Head over to the Erase option.
You will be asked about the Format Option. Select APFS or Mac Extended and click on it.
After your hard disk is formatted, you can then reinstall your MacOS.
The Final Words
If you are looking for solutions of MacBook or MacBook Pro trackpad not clicking, then you have found your answer here. You can try all these above methods to get rid of it. If you have any queries, please let us know in the comments section below!