Is your iPhone Mobile Data working but hotspot not working or your iPhone failed to enable a hotspot? Your device's hotspot can be your saviour when you're out somewhere and need to work on your laptop. But sometimes, you can't connect your laptop with your iPhone's hotspot due to some glitches. It may sound disappointing. But whatever the issue with your iPhone's hotspot, we are here to help you fix it. So, you can keep reading further to know some easy and quick fixes for the hotspot not working issue on your iPhone.
Before heading to an Apple Store to get a fix for your personal hotspot problem, you can try some easy tricks that can help fix the issue quickly. Below we have tried to explain them step by step so that you can quickly fix your hotspot in the comfort of your home.
Check if your Data Plan Support Personal Hotspot
The Data plans of some companies do not include Personal hotspots. You can add or remove the personal hotspot feature from your data plan by logging into your phone company. Moreover, you need to check if your plan has internet data left. If not, you may need to upgrade your internet plan to get the necessary data to enable a hotspot.
Ensure Personal Hotspot is turned on
To enable your iPhone's personal hotspot, you must ensure it is turned on. To check or do this, you can do it as follows.
Open Settings > Personal Hotspot > Toggle on the Allow Others to Join option.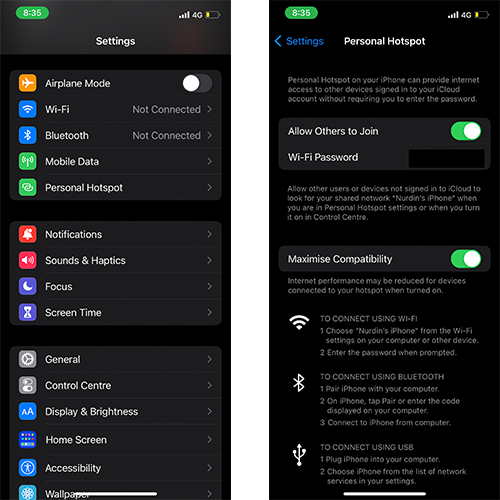 If hotspot is already on, you can turn it off and then back on.
Toggle Airplane Mode on and off from your iPhone
To fix some random network-related issues, you can try resetting your iPhone's network by turning on and off the airplane mode. If you have an iPhone model that does not have a home button, you can do this in the following manner.
Open the Control Center by swiping down from the top-right corner of your iPhone.
Tap the airplane icon to enable Flight mode.
Wait for a few seconds, and then tap the Airplane mode icon to turn it off.
If you have an older iPhone version with a home button, you can access the control center by swiping up from the bottom of the screen and following the above-written steps.
Reboot can solve most of the Hotspot issue
Restarting your device can solve most of the issues with the different features. So, it would help if you restart your iPhone to troubleshoot the problem.
When your iPhone restarts, you can check the working of its hotspot. You must restart your device and connect your iPhone's hotspot to any other device. Overall, there are slight chances of having issues with your iPhone as well.
Check if Mobile Data is turned on from your iOS device
A personal hotspot in your device works only when your device is well connected to the cellular data networks. Follow the steps below to check or turn on your mobile data connection.
Open Settings and Tap on Mobile Data.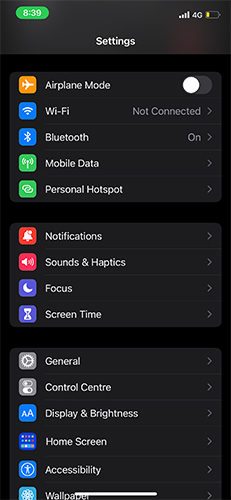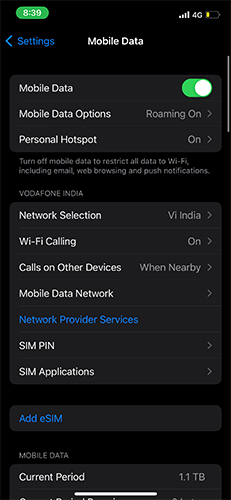 If your mobile data is already on, reset it by toggling it off and back and forth.
Enable and Disable Maximise Compatibility
When you try to connect an older model with the phones of iPhone 12 Series, their various networking options and features can cause a problem with the hotspot. You can fix this issue in the following way.
Tap Settings > Personal Hotspot > Toggle on Maximise Compatibility.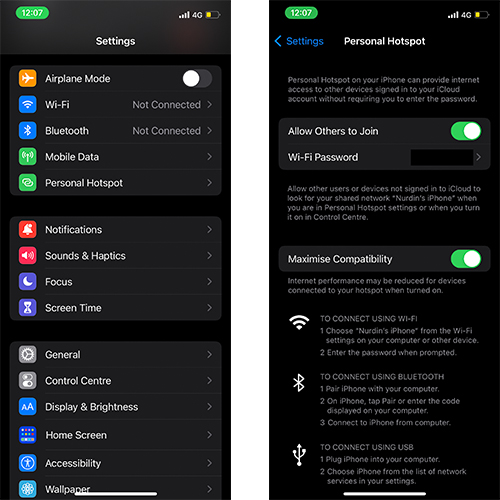 Toggling the Maximise Compatibility on or off depends on the device type you wish to connect to your iPhone's hotspot. When you turn off this setting, your iPhone creates a 2.4 GHz personal Wi-Fi hotspot suitable for the devices that support this range. Now, you can check whether the issue with your personal hotspot has been resolved.
Have you entered the correct password for the Hotspot?
You need to ensure that you are entering the correct password for the hotspot on the device you are trying to connect with your iPhone. Then, you can re-check it on your iPhone. If it is difficult to type without mistakes, you can change it to something more manageable.
Sign out of iCloud
Sometimes, signing out of iCloud also fixes the hotspot not connecting issue. It may sound illogical, but you can still try it to fix the personal hotspot issue. You need to follow the easy steps written below.
Open Settings > Tap on your Name.
Tap on Sign out and enter the Password and then tap on Turn Off.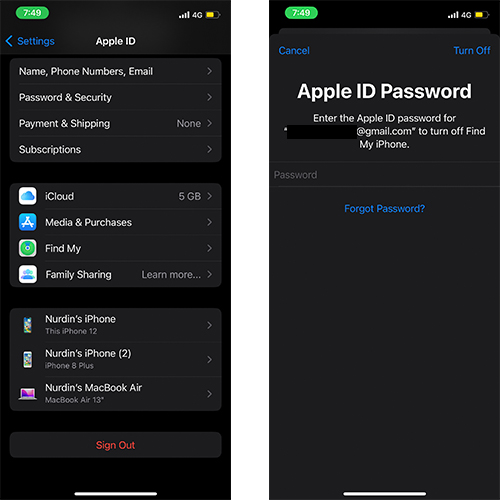 If you wish to re-enable the services of your iCloud, you will need to log back into your account.
Upgrade iPhone to the latest iOS 17 version
iOS updates are intended to fix the bugs in your device's operating system. So, if your hotspot is not working due to any bug, updating your software can help fix it. The quick steps to an iOS update are mentioned below.
Head to the Settings and tap on General.
Click on Software Update.
You can download and install the iOS update, if available.
Try resetting the iOS Network Settings
To troubleshoot your iOS device personal hotspot issue, you can also try deleting the network settings in the following way.
Go to Settings > General.
Select the Transfer or Reset iPhone option.
Choose the Reset option.
Tap the Reset Network Settings.
To proceed, you will be asked to provide your passcode. This resetting will help you remove any incorrect network settings from your device. It will delete your custom iPhone name and all your passwords, Wi-Fi, and career settings.
Conclusion
We have listed all the possible and effective ways to fix issues with your iPhone's hotspot. Try these fixes one by one and check if hotspot is working fine after trying each one. We hope this write-up helped you fix your device's tethering issues. If the problem persists then you can contact your nearest Apple store for help. Also, If you have any query feel free to leave your query below.
FAQ about iPhone Personal Hotspot
Can I change the password for my iPhone Hotspot?
To set a new password for your iPhone's hotspot, you can go to Settings and tap Personal Hotspot. After this, select the Wi-Fi password and the Cross symbol to delete the existing password. Then type your new password and hit Done.
How Do I change my Hotspot Name on Apple Phone?
For changing your hotspot name, you need to open Settings and head to the General settings. After this, tap on About and then choose Name. Choose the Cross symbol next to the existing name and type a new one.
Can I see how much data a connected device has used via Hotspot on my iPhone?
You can check the data usage of a device connected to your iPhone's hotspot. For this, you can go to Settings and tap Personal Hotspot. Then tap the connected device whose data usage you wish to check.
Can I make Hotspot faster on an iOS device?
You can turn on Maximise Compatibility and move the connected devices closer to your iPhone. You can also check if your iPhone is updated to the latest iOS version.