When you want to connect on an important call, but your iPhone drops it unnecessarily? Well, if you have ever faced iPhone call dropping issue or are still facing it now, then it needs a solution. If you don't do this, you will not be able to follow up on your personal, professional, or commitments on time!
Some of you would feel upon call dropping issues that your iPhone is lagging performance due to unnamed issues. Many users often think that the issue cannot be resolved by themselves, no technician can help it, and it's the time to change their phone. But it is not so! You can follow the methods listed below to check out which works, which vary depending upon the causes!
Reboot your iOS Device
Rebooting your iPhone is the ultimate solution to fix network or performance issues. Restart your iPhone using the power button or Control Panel. The mechanism to restart iPhones varies per their iOS versions and model manufacture.
Inspect SIM Card Properly
When your SIM card is often damaged, bent, or cracked, it affects plenty of network settings like it leads to dropping calls on the iPhone. Therefore, you must inspect it carefully.
To do so, find out the SIM card tray. Most iPhones have it on the right side of the phone. However, for some models, it is different.
You get a Sim ejector pin along with your iPhone; use it to remove the SIM from your iPhone.
Inspect the SIM card to see if it is bent, damaged, cracked, or some abnormalities.
Install the SIM again into your iPhone.
Reboot your device if the issue persists.
However, if you notice any signs of damage, then you need to get it replaced.
Turn Airplane mode on and off
Enabling the flight mode disables all the wireless connections, and this fix sounds strange. You will observe the difference when you disable the Flight mode after the process. When you turn on the flight mode, it disables all the wireless network connections for the time being. So, when you turn off the mode, your device automatically detects networks around you and refreshes. This makes it an effective fix for various network connections, including data, dropping calls on iPhone, and even no network.
Check for iOS Carrier Settings Update
Your iPhone Carrier Settings should be updated for optimum performance and to prevent unwanted errors.
Open Settings and go to General and navigate to About.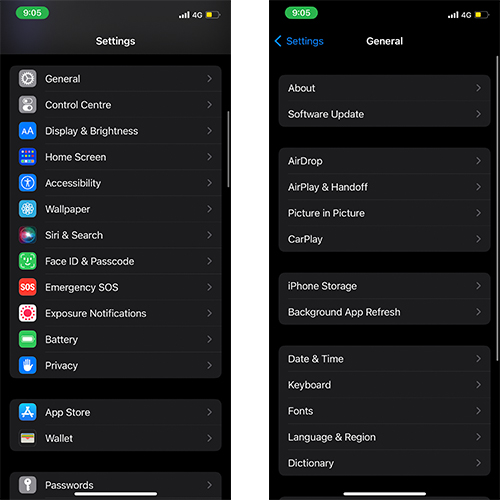 Now, after a while, you will be notified if there will be an update. If nothing occurs, it is updated; you will be prompted to update.
If it does not need to be updated, then inaccurate Date and Time Settings would be the underlying cause.
Update the Date and Time Settings
If you are an avid traveller or have recently travelled, then improperly Date and Time Settings would lead to the call dropping issues. You do not always have to set Time and Date, but your iPhone does it automatically. However, it is essential to update Date and Time Settings.
Head over to Settings.
Navigate to General.
Select Date and Time and tap the Set Automatically option if it is not enabled.
If the issue were due to any of the issues from your side, then it would have been fixed by now. However, if it does not work, there might be any hidden reason or a technical one. But here's how you can fix them all!
Turn on Caller id from your iPhone
Not activating the Caller ID is another leading cause of dropping calls on iPhone. Often it is activated by default and sometimes not, so you should know whether it is active or not.
Head over to your iPhone Settings.
Tap on the Phone option.
Select Show My Caller ID.
If it is off, then turn it on.
Alternatively, dial #3# in from the dial pad of your iPhone. If your iPhone would have anonymous visibility, then it would be fixed and hence resolving the issue.
Clear or Delete Cache from your device
Be it app crashes, phone performance issues, network issues, or call dropping, the cache is often the root cause. Hence, it is essential to clear the cache on your iPhone. It deletes all the unnecessary files and RAM but does not affect any of your files. Too many apps and programs running in the background lead to cache accumulation and also causes your device to run slow.
Use third party tool to fix iPhone dropping calls issue
If you are not so handy in resolving minor issues, need a quick fix, or face several issues with your iPhone, then an effective third-party tool is your ultimate rescue.
Install AnyFix on your PC and connect iPhone with the PC where you installed the tool.
An option of System Repair pops; click on it.
Select Start Now.
Tap on Standard Repair.
You will be prompted to proceed.
The tool will download suitable firmware as per your OS. Head over to Fix Now, and the process will begin. All the issues, including Call dropping, will be resolved that appear on the screen.
Reset Network Settings
Dropping call issues might be caused due to improperly configured Settings. So, resetting network settings to default would fix the issue.
Head over to iPhone Settings and tap on General.
Tap on Transfer or Reset iPhone and then tap on Reset.
Select Reset Network Settings and enter your passcode.
Your Network Settings will be reset to the default on your device.