Silent haptic alerts are one of the fantastic features of the Apple Watch. But what if this feature starts causing trouble by giving a false notification indication? We are talking about the Apple Watch Vibrate but no notification issue. You would have discovered that their watches keep vibrating for no apparent reason.
Apart from Phantom Vibration Syndrome, a strange psychological phenomenon, this could be due to several other reasons. This article will cover the main causes behind the issue besides providing worked-out fixes for the same. So, let's read further to discover them all.
Your Apple Watch may be unnecessarily vibrating due to several reasons. We have listed some of them below.
Lost connection to iPhone.
Activated Prominent Haptics.
Inappropriate watch band.
Activated Chimes.
Software issues.
Now, move on to the next section to know what you can do to fix this annoying issue with your Apple Watch.
Below we have shared some of the popular and tested methods that you have to try to fix your Apple Watch unnecessarily vibrating issue.
Restart Apple Watch
Your watch may be vibrating unnecessarily due to some glitch with your Apple Watch operating system. To fix it, you can try restarting your Watch in the following way:
From the side of the watch, long press the button.
Slide the Power Off option when the power menu appears.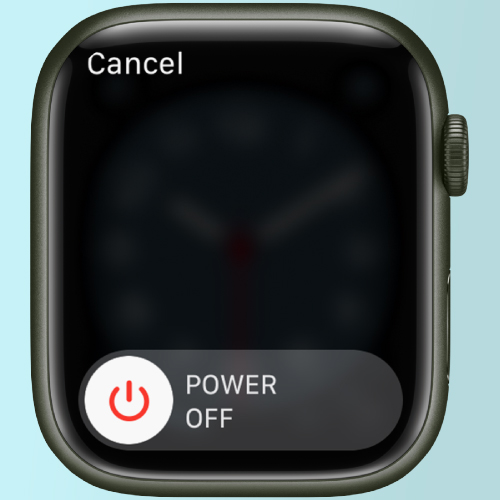 Let the Apple Watch turn off completely.
Now, after a few seconds, you can turn your watch back on by pressing and holding the same button until the Apple logo appears.
Toggle off Notify When Left Behind Option
Apple watchOS 8 has a feature that notifies you with a haptic response whenever you walk away with your phone and it goes out of range. Earlier, users were using a third-party app for this purpose. But if you don't want to get a vibration in your watch every time your phone and watch are separated, you can turn this feature off.
To do this, you can follow the steps provided below.
Go to Find My App on your watch.
Scroll a bit down to locate the option- Notify When Left Behind.
Turn the feature off by tapping on it.
Now, you will find that your watch has stopped vibrating whenever you move away from your phone.
Turn off Prominent Haptics
A prominent haptic feature in your Apple Watch offers a pre-alert before the arrival of the actual notification. It is designed to prepare the users for the upcoming phantom vibration.
However, not every user is aware of or needs this feature. If you have accidentally activated this feature on your watch, then you will experience unnecessary vibrations.
To fix the issue, you can turn off the Prominent haptics in the following manner:
Open the Settings app.
Go to the Sounds and Haptics option.
Scroll down and search Prominent Haptics.
Turn off the toggle button for it.
Now, your watch will stop vibration due to Prominent haptics. But if this feature was turned off on your watch, you can check the following method to fix the issue.
Turn off Chime feature
The Chime feature makes an audible alert routinely on the hour, just like the old-fashioned clock chimes. This function is helpful for those who like to remain updated regarding the time. But if the chime sound is turned off, it will give just a phantom vibration every hour. If you do not need this feature and your watch's vibration makes you feel disturbed, you can turn it off.
The steps to do this are as follows:
Open the Settings app on your watch.
Tap the Accessibility option.
Scroll down and go to Chimes to toggle it off.
If your Watch Chime feature is already toggled off, then this means that the reason for random vibrations is something else. In that case, you can move on to the following method.
Toggle off alerts for the Different Apps
The random vibration issue can also be due to some glitch within one of the apps. Well, you need to do some testing for that. You can try turning off the notifications for the apps you feel are unimportant or required.
Open the Apple Watch app on your connected iPhone.
Choose your watch.
Tap the Notifications option.
Turn the notifications off for the apps you don't want alerts from.
Alternatively, you can turn off the entire haptic feedback in the following manner:
Launch the Settings app on your Apple watch.
Find Sounds & Haptics by scrolling down.
Turn off the Haptic Alerts.
This is the quickest and easy way. The only downside is that it disables all haptic responses, including calls, texts, or calendar notifications.
Change Apple Watch Band
Some watch bands, like leather loop bands, give the same feel as haptic feedback when you flex your wrist. This is due to the rubbing of the band ends. But you don't need to worry much as your watch's bands can be easily detached and replaced per your requirements and comfort.
So, you can try replacing your watch's band with a non-problematic band to fix the vibration issue with your watch. To test this and feel the difference, you can try bands like the silicon sport band on your watch.
Unpair your Apple Watch and Pair it again
You can use your iPhone paired with the watch to unpair Apple watch. Below are the steps you need to follow.
Keep your iPhone and Apple Watch close together.
On your iPhone, launch the Apple Watch app.
Open the My Watch tab and choose the All Watches option.
Choose the info (i) button next to the watch you have to unpair.
Select the Unpair Apple Watch option.
Choose Unpair.
After the unpairing, Start pairing message will appear. You can now set up your Apple Watch again.
Erase All Content and Settings on Apple Watch
You can erase all your watch's contents and remove the activation lock while restoring it to its factory settings.
While erasing your Apple Watch without using the paired iPhone, you won't be able to remove the Activation Lock.
Below we have listed the steps you need to follow.
Launch the Settings app on your Apple watch.
Head to General > Reset and choose the Erase All Content and Settings option.
Enter your passcode.
Confirm by choosing the Erase All option.
After performing all the above steps, your Apple watch will be reset to the factory settings.
Conclusion
Several iOS users have reported the "Apple Watch vibrating but no notification." The problem can occur due to several reasons, which we have discussed in this article. We have mentioned quick and reliable fixes for the same. We hope that you find this helpful article. Feel free to comment below.