How about the time when you are trying to make an important call, but the other person's phone is unavailable, and you want to pass on an important message? Well, if that is the case, then you would try to send a Voicemail, but unfortunately, it does not work! If that is so, you are finding How to fix Voicemail Unavailable try again later on iPhone; we have covered you all!
There may be several reasons for the Voicemail Unavailable issue. Either your iPhone would not be getting a proper network, there might be performance issues due to cache, or there would be improper network settings or corrupt settings on your phone. Moreover, a glitch would be an obstacle if your iPhone is not updated to the latest version.
Reboot your iPhone to fix voicemail not working
If the Voicemail error is caused due to performance issues, then you can reboot your device for its optimum performance. This will clear all the cache, and minor issues will be tackled after a boot.
Press and hold the volume down button and power button till the power off slider pops up on the screen.
Slide the slider towards the right and wait till your phone shuts down.
When the screen goes completely black, press the power button again till the Apple logo appears, and your iPhone turns on.
Besides, if you have an iPhone 8 or a similar one, you have to press only the power button at the side until you get the slider. Also, if you have an iPhone 5 or earlier, you must use the power button on the top of your device.
Now, minor issues due to cache or similar ones would be resolved, and the service would work normally. However, if your device has an improper network setup, there's a simple way to tackle it.
Turn on and off the Flight Mode from your iOS device
The most common reason behind the Voicemail Unavailable issue is unstable network settings and your device. You can re-establish network connection on your iPhone by turning on Flight Mode and disabling it later. When you put your device on Flight Mode, it disables all the Wireless networks except Bluetooth. When you enable airplane mode, your iOS loses all wireless networks for a while, and after disabling it, the network is re-established.
Swipe to open the Control Center on your iPhone.
Tap on the Airplane shaped icon to enable the flight mode.
Wait for 5 seconds and then disable it.
Alternatively, you can even access it through the Settings app on your iPhone. Head to Settings, navigate to Airplane Mode and Toggle on the button. After a while, you can disable it. Now, check if the Voicemail issue is fixed or not. Besides, you should also ensure that your Wi-Fi/Data Connectivity is appropriate or not. If the error is not resolved, it might be due to cache or temporary device performance issues.
Update iPhone to the Latest iOS 16 Version
You can eliminate glitches and bugs on your iPhone by updating it to the latest iOS version. Besides, you can enjoy the latest iOS features and enhance the functionality of your favorite phone. Even over time, outdated software would create unnecessary troubles that interfere with your device's functionality, so a software update is necessary. Before doing this ensure that you have a stable network connection be it Wi-Fi or packet data.
Head over to Settings on your iPhone and Go to General.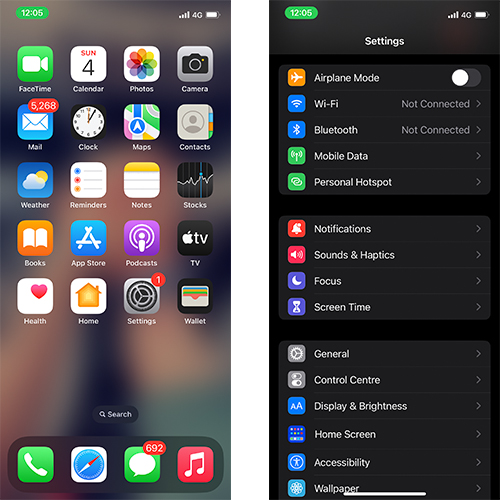 Within some time, the latest updates will pop up.
Click on Download and Install.
You will be prompted to enter your password, and then click on Agree.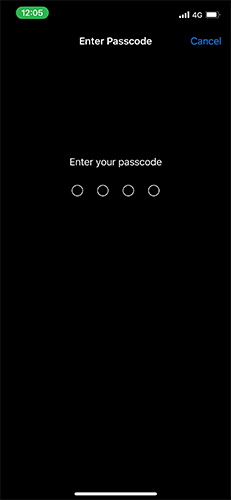 Downloading and installing the update would take some time but wait patiently. If you do not know the password, it is the same as unlocking your device. After completing the process, your iPhone will automatically restart, and you must enter the same password again. When you do this, Voice Unavailable will be resolved.
Reset the iOS Network Settings
When your iOS Settings are improperly configured, then instead of figuring out and finding a fix, you Reset the networks to default. It will not wipe any of your data; only you have to enter your Wi-Fi password again and configure Hotspot settings.
Open the Settings and tap on General.
Navigate Transfer and Reset iPhone.
Tap on Reset and select Reset Network Settings.
Enter passcode.
This will reset network settings on your iOS. It will be fixed if anything is wrong with your iPhone's network settings in the Voicemail Unavailable issue. It may also happen that you would have accidentally modified your device settings. Further, even corrupt settings could be the reason for it. You can check out the next method for it!
Reset iPhone All Settings to Default
Resetting iPhone Settings to default is another method to resolve several issues interrupting your phone's function. Due to the term Reset, many users confuse it with Factory Reset, but you should note that both are different. This will restore all your iOS Settings to Default like when you bought them.
Go to iPhone Settings and tap on General.
Find and tap on Transfer or Reset iPhone.
Click on Reset and choose Reset All Settings and enter passcode.
This resets all your iPhone Settings and its customizations. You might get a prompt box to confirm your action. Afterward, check Voicemail, and the Unavailable error will be fixed. If everything else is fine, then to it is not above, there would be a software bug in your device.
FAQs about Visual Voicemail
Why can't I access my iPhone voicemail?
When you cannot access Voicemail on your iPhone, you have to update it to the latest version as it would be a software bug.
What does the voicemail icon look like on an iPhone?
You do not have a separate Voicemail icon on your iPhone. To access it, you have to head over to the Phone app and if you have any Voicemail, it will be displayed in the top right corner of the display.