Are you facing issues with your iPhone's Messages app? Many users often report issues like they can't receive or send messages with their device or get an alert while trying to send a message. Sometimes they see an unexpected green message bubble instead of the blue one.
These Messages issues may generally appear after you have set up a new device or because of improper device settings. Whatever the problem with your messages, certain tested tricks can resolve your issue in no time. This write-up will cover them all, so read along to enable smooth and error-free messaging on your iPhone.
Texting is a common and basic communication nowadays. If your iPhone has any issues, this could be due to several reasons. We have provided some fixes below to get you back to seamless texting on your iPhone.
Quit iOS Messages App and start again
Sometimes, you cannot send a message from your iPhone's Messages app, and it keeps showing a failed sending alert. If the issue suddenly arises, you can try force-closing your iPhone's Messages app and then open it again. It will help solve minor problems with the app that may prevent the delivery of your text message.
Ensure you are typing the number correctly
While sending a text message to someone, you should make sure that you are typing the number correctly. Typing an incorrect or inactive number will only result in a failed delivery. There is not such problem when you message one of your contacts, but you need to be extra careful about it while entering number for texting.
In case of repeated fails, you should also confirm the number with the recipient of your message by other means. It is required because their mobile operators may have disconnected their number, or they may have changed their numbers.
Furthermore, if you are sure about a person's number but are not receiving any replies from them, the recipient may have blocked your number.
Make sure SMS and MMS are turned on
When you send a message to an Apple device user using your iPhone, it should go via iMessage by default. But if for some reason, iMessage fails, your device may be trying to send an SMS. But SMS sending will also fail if it is not enabled in your device settings. If you want to enable it, you can do the following.
Fire up Settings > Messages.
Ensure the toggle for Send as SMS and iMessage are turned on to the green position.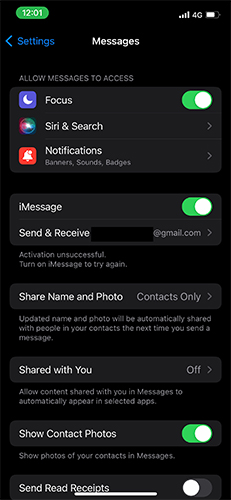 Your iPhone is also capable of sending an MMS if iMessage fails. But this is possible only if you have activated them in your device settings. To avoid their failed deliveries, you can check if they are enabled in the following way.
Open Settings > Messages > Toggle on MMS Messaging.
Apart from this, you can also check if your cell plan covers MMS messaging.
You must have a stable Network Signal
You need a stable internet connection through Wi-Fi or data to send or receive an iMessage. So, you should make sure that you have an active internet connection.
On the other hand, SMS or MMS requires an active cell phone network for their successful transmission. You can move to an area with good signal strength. But if it also fails to help you, you should contact your cellular network operator to get a fix for the bad network.
Furthermore, you should check if you currently have an active service plan. In case of a limited messaging plan, you might have exceeded your monthly limit. So, you may need a plan renewal to enjoy messaging on your device again.
Turn on Flight mode and off
When you enable Airplane mode on your iPhone, you cannot send or receive iMessages unless connected to a Wi-Fi connection. Plus, Airplane mode hinders cellular signals and thus prevents the sending and receiving of SMS and MMS messages. So, it would help if you always kept your device's Airplane mode turned off while you sent a message.
At the same time, toggling Airplane Mode on and off can help clear up temporary signal issues. So, you can try this trick to fix up your messaging issues.
Ensure the Airplane Mode symbol is grayed out at the end, which signifies that it is turned off.
Shutdown and Start iPhone
Restarting the device clears the temporary memory that may be causing problems for your Messages app to function properly. So, to fix the texting issue, you can shut down and restart your device in the following way.
Open Settings > General > Shut Down.
Swipe the slider towards the right.
Once your device shuts down completely, press and hold the Side button until the Apple logo appears on the screen.
After restarting your device, you can try to resend the failed text or send a new one.
Upgrade iOS on iPhone to the latest version
The new iOS update comes with fixes for various bugs or software issues. So, as a way of troubleshooting your messaging app problems, you can update your Apple device to the latest iOS version.
Before updating, ensure your device is connected to a power source and a Wi-Fi network.
After installing the latest iOS version on your device, you can try sending a message to someone to test whether the messaging issue is resolved or not.
Last resort: Reset your iOS Device Network Settings
It is not advisable to reset network settings as you will lose your saved Wi-Fi networks and their passwords. But, if all the above methods fail to fix your iPhone's messaging app issue, you can consider trying this fix.
Once done, your iPhone can send or receive text messages. You can test by sending one.
Conclusion
Failed or undelivered messages may hinder your day-to-day activities besides appearing annoying and frustrating. But thankfully, the above methods can quickly fix the messaging issues with your iPhone. You can keep trying them one after the other until you reach your proper fix for the issue. Make sure you test the messaging app after every fix. If the issue persists, you can contact your nearest Apple store to address it.