How about quirky, colorful Bubbles around your iMessage? Well, it makes the chat and overall conversation quite interesting! Who does not like colors? Everyone but no one likes dull colors, including Blue, Green, and Grey. Similarly, you can change the text color of the Messages app on your iPhone! We have covered you if you are wondering how to Change Text Message Color in iMessage on your iPhone.
Although several upgrades in the iOS 14 version led to additional features, it still failed to change the bubble color OS that upsets many. But there is nothing to bother about! You can use third-party applications or Jailbreak your iPhone to do so.
How to Change Text Bubble Color in iMessage using Color Text Bubbles on iPhone App
The method uses a third-party application that is effective, reliable, free of cost, and safe for you to use!
Follow the steps given below to Change Text Bubble Color in iMessage on iPhone using a third-party app:
Head over to the Apple App Store.
Search for Color Text Bubbles on iMessage.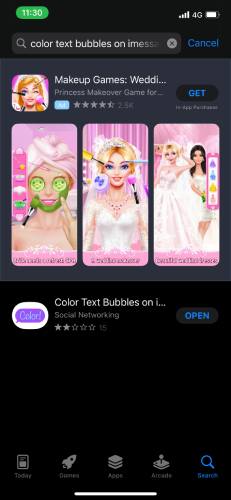 Click to install and open the Messages app.
Navigate to Compose a new chat.
Tap on the Message field where you will enter your text.
On your keyboard, some apps will be displayed in the row.
Now, Tap on Color Text Bubbles on iMessage.
It will display several Color Text Bubbles options; choose the one you like.
Now, type your message and send.
Besides, you can even type your intended message after selecting the color. Press the Color Text Bubbles from the top of the keyboard. A button saying Type Custom Message will be displayed and tap on it.
Now, enter your message and choose the color from the options, and click on Send. If you would like to save the message with customization, then before choosing Send, tap on the heart icon, and the message will be added to the favourites. Further, click to Send the message.
Use Cydia to Change the iPhone Messages Text Color
Open Cydia and check out tools that let you customize if you want to change iMessage Color. Some of the prominent examples are Dreamboard and Winterboard. You can also check out others and download and install them. They will now be added to the home screen.
Now, open the installed program that will let you customize it. Get Started to set up the app, and you will be prompted about how you can change the iMessage Color.
The Final Words
You can use third-party apps like color text Bubbles or Jailbreak your iPhone to install Cydia and Winterboard or Dreamboard for changing the Text Message Color in iMessage on any iPhone. If you have any queries, please let us know in the comments section below!
Frequently Asked Questions
What are the different color mean in iPhone Messages?
iMessage has three different bubble colors – blue, green, and grey. The color is blue when the message is sent between iOS devices and becomes iMessage. It becomes green when the message is sent to a non-iOS user from an iOS device. Besides, all the received messages on iPhone, be it SMS or iMessage, will be grey.
If you have a warranty on your iPhone, why jailbreak it?
Jailbreaking your iPhone will remit the warranty, but it will also let you customize your iPhone and use several features that otherwise you cannot. Further, if your iPhone is one year old, the warranty expires; thus, most of them give a chance by jailbreaking it.