Are you bored with simple SMS and MMS communication? Spice up texting with the special iMessage effects, which are fun to use. Over the years iPhone's Messages app has upgraded itself. It has evolved into a sophisticated tool packed with special effects. You can use these effects with iMessage on your iPhone, iPad, and Mac.
This fun functionality lets you add fireworks, love hearts, balloons, confetti, and even animation to your texts. This write-up will discuss how to add camera effects, full-screen animations, bubble effects, emoji sticker effects, and much more. Many special effects generate automatically with the use of certain words or phrases in the text, while many are to be manually selected. So, let's look at how you can use special effects in messages to take your texting experience to the next level.
Which Messages can have Special Effects?
You can add special message effects only to the iMessages and not to every message you send from your iPhone's Messages app. So, these effects are not applied to the standard SMS texts that appear in green text bubbles. In contrast, the messages on your screen in blue text bubbles are iMessages that you send to people with iPhones. And thus, you can use iMessage effects while sending them.
What is Bubble Effect and how to add and use it in iMessage?
Bubble effects can change the way your message bubble shows up. The Messages app provides four bubble special effects to choose from. You can preview before using them. Let's take a look at what these effects can do to your messages.
Slam: This effect makes your text fall onto the screen, and as it lands, it seems to be kicking up a dust cloud.
Loud: This effect adds some intensity to your texts. It appears as if you are screaming while the text bubble grows and shakes.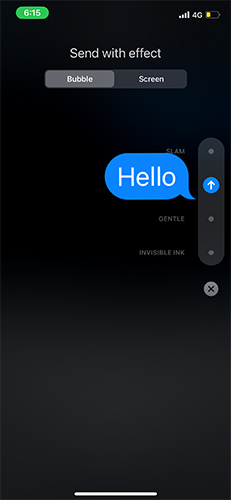 Gentle: When you use this effect, your text message starts with a minimal font size which later grows typical.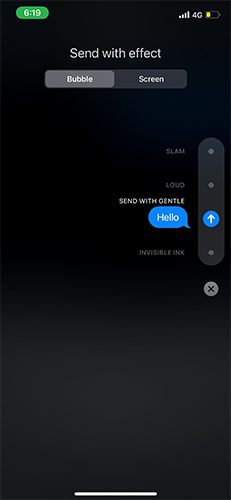 Invisible Ink: This effect makes the text blurry and scrambled; the recipient needs to tap on it to make it clear and readable.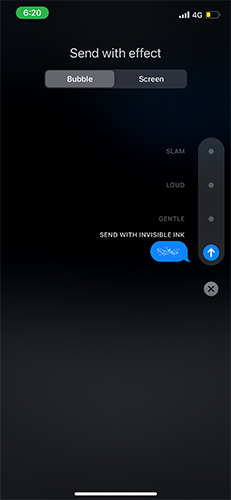 Adding a bubble effect to an iMessage is easy. Follow the steps provided below:
Head to the Messages app and open a conversation. You can also tap the Compose button to start a new one.
Type your message or add a photo, then touch and hold the Send button.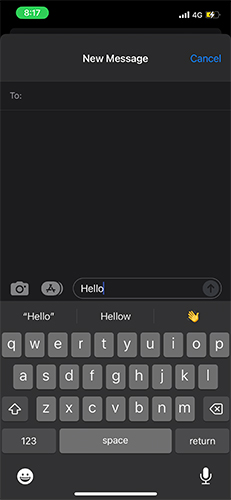 Touch the gray dot and preview the bubble effect.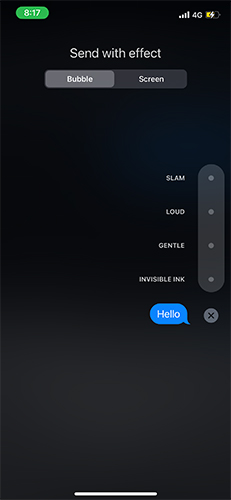 Send the message by tapping the Send button.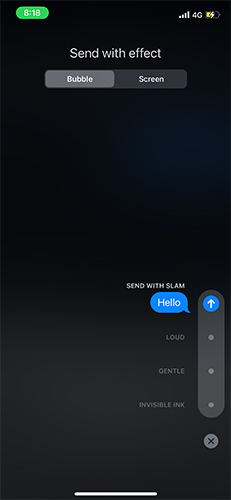 You will also find a replay button below when you receive a text message with iMessage effects. You can tap it to replay a message effect.
If you cannot receive bubble effects, you can turn off your device's Reduce motion feature. Go to Settings > Accessibility > Motion and turn off Reduce Motion.
What is Screen Effects in iMessage and how to use it?
Screen effects can animate your iPhone's screen, making your text more impressive. You can choose any one of the eight available full-screen effect options. Let's take a look at what these effects can do.
Echo: It displays several moving bubbles of your text zooming around as if your message is echoing across the screen.
Spotlight: With this effect, your text bubble gets highlighted with a temporary light, and the entire Messages app darkens.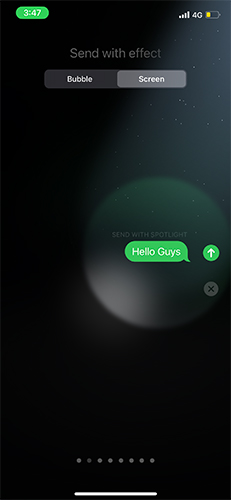 Balloons: With this effect, a bunch of colorful balloons appear floating across the screen.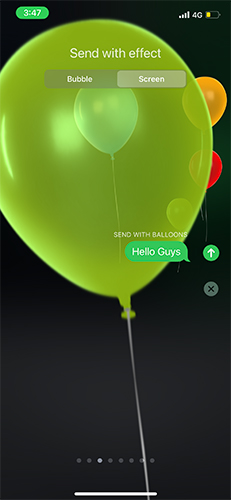 Confetti: This effect makes a big burst of colorful confetti rain down from the top of the screen.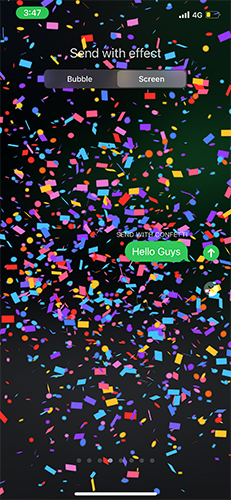 Love: This effect leads to the flying out of a giant 3D heart from your text message, which later floats off the screen.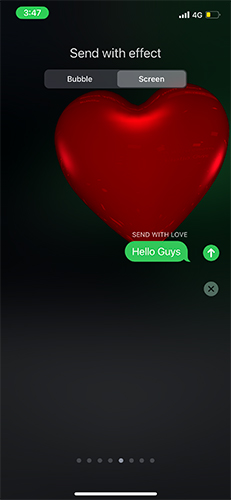 Lasers: This effect will cause color-changing lasers to appear from your text message bubble and move up and down the screen.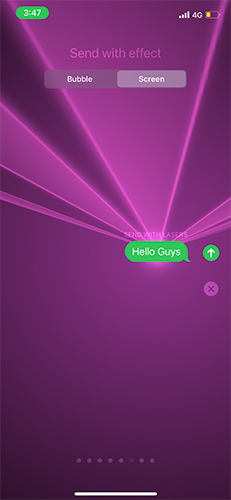 Fireworks: This effect turns your screen dark, following an overall explosion of vibrant fireworks complete with haptic feedback.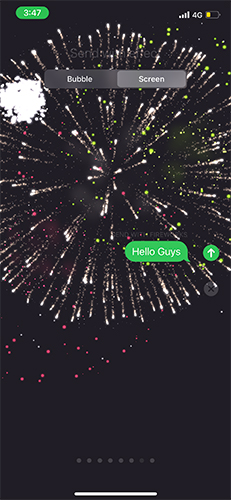 Celebration: It leads to the eruption of golden sparkles of light from the corners of the screen.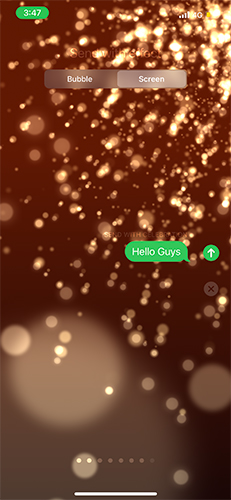 To add a full-screen effect to your iMessages, you need to follow the steps given below.
Open the Messages app on your iPhone.
Start a conversation by tapping the Compose button or opening an existing conversation.
Type your text message.
Tap and hold the Send button and then choose Screen.
Swipe towards the left to view full-screen effects.
Hit the Send button.
When you receive a message with a full-screen effect, you can replay the effect by tapping the Replay button available under the message. Likewise, you can turn off the Reduce motion settings if you cannot receive full-screen effects. To do this, you must go to Settings > Accessibility > Motion and turn off Reduce motion.
Instead of manually choosing or picking your effects, you can activate them by sending particular words or phrases. For example, the words or phrases that can automatically add effects to your iMessages are as follows:
Happy New Year: The text will display color fireworks on sending "Happy New Year" in an iMessage.
Pew Pew: When you type "Pew Pew," a laser beam will shoot out from your text's bubble.
Happy Birthday: Texting "Happy Birthday" in an iMessage will display a bunch of floating colorful balloons.
Congratulations or Congrats: When you text these words to someone in an iMessage, you will see confetti raining down from the top of your screen.
How to Send a Handwritten Message with iMessage?
Adding a handwritten note is a beautiful way of sending a personalized message or a doodle. The message will animate when the recipient receives it. To send a handwritten note to your friends or family, you can go by the steps provided below.
Open the Messages app on your iPhone.
Tap the Compose button or open an existing conversation.
Turn your iPhone to landscape orientation and select from the keyboard.
Write your message or choose one of the options from the screen's bottom.
You can tap Clear or Undo in case you wish to start over.
Tap Done once you have finished writing.
Send the message by hitting the Send button.
Creating and sending a handwritten message gets saved at the bottom of the handwriting screen. So, you can tap them to use it again. Hence, you can touch and hold a saved message until it jiggles and tap the Cross icon to delete it.
How to send a Message with Camera Effects?
Camera effects is another iMessage effect that can liven up your conversation. It lets you instantly create and share a photo or video with fun stickers, text, filters, Memoji, and more.
To add these effects to your messages, you can go as per the below-given steps.
Open the Messages app on your iPhone.
Start a new message by tapping the Compose button. You can also open an old conversation.
Choose the Camera icon.
Tap on the Effects button. Now, select an effect like an iMessage app or Memoji. A photo or video can have multiple effects.
Once you have selected the effects, choose Done.
Tap Done to put in a personal message or hit the Send button. You can also select the Cross icon from the photos upper right corner if you don't want to send it.
Conclusion
These special effects can add a bit of flair to your Messages while making them more expressive. So, you can keep using them for carrying out exciting and memorable conversations with your friends and family. We have explained the different iMessage effects and how these can be applied. If you still have any queries regarding the iMessage effect, feel free to comment below.