Can't decide which novel to read next or which cafe to visit this weekend? What about creating a poll and making an informed decision? Otherwise, you can imagine yourself discussing and deciding on a trip with your friends in a group chat. You know you will be reading an infinite number of messages one by one, which is time-consuming and not to mention BORING!
So, the best option is to create a poll whenever in a dilemma over something. It works wonders when you need the approval of your group members to decide on a plan. Unfortunately, unlike other platforms, Apple's native messaging app doesn't provide a feature that can generate polls in chat threads.
But you don't need to worry as in this article, we will tell you how you can create polls in group chats on your iPhone or iPad's Messages app. You need to download a third-party poll generator app that can offer you all the required features. One such free and fantastic app is Polls for iMessage, which you can quickly use after downloading from the App Store. Let us discuss it in detail and dive into discovering and using its exciting features.
What is Polls for iMessage App?
Polls for iMessage is a valuable third-party app that allows its user's multiple votes and the setting to enable winner declaration. You can also decide whether other users can add poll options and see others votes. But you need to ensure everyone in your group has this app installed.
How Do I Get and Install "Polls for iMessage" on your iOS device?
To use polls, you must get the app on your iPhone. To download and install the Polls for iMessage app, you can refer to the steps provided below.
Open any iMessage group chat.
Tap on the App store icon available above the onscreen keypad.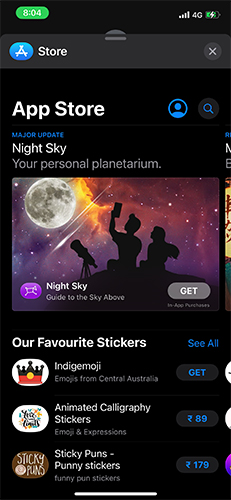 Tap the Search icon and type "Polls for iMessage" in the App store's search bar.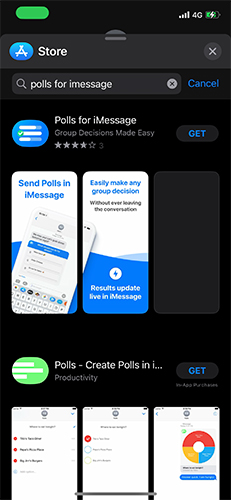 Download the Polls for the iMessage app by tapping the Get button next to it.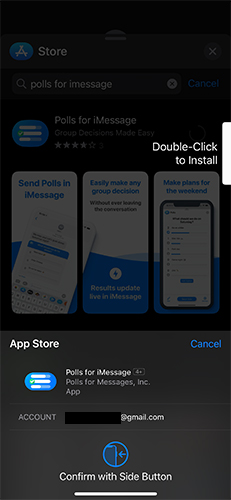 Now you have the app, and you need to create a poll. So, you can move on to the next section to know how to make poll and use it on your iOS Messages App.
How to create a poll on iPhone Messages?
Creating a poll on an iPhone might seem a bit complex, but it is easy.
The easy steps to start a poll in iMessage Group chat are explained below.
Open the group chat in the iMessage, where you can submit a poll.
Locate and tap on the Polls icon in the toolbar with different app icons.
Click on 'Get Started' and set up your poll by entering a question.
Add at least two votable options to your poll using the Add Option button.
Hit the Done button when you have added all the options and choose the Settings icon from the bottom.
Once you set all the options for your poll, choose Back and tap Send Poll.
Now, You have successfully submitted your poll to your iMessage group chat thread. So, you can wait and let your group members raise their votes for your poll.
Options you Get in Polls for iMessage Settings
The four main options available are as follows:
Add options: Once enabled, all the participants can add their votes to the poll.
Multiple votes: Allow participants to vote for more than one option.
See who voted: Let's see the number of votes and the voter for each option.
Declare a winner: The app automatically chooses the winner after the poll.
Depending on your poll requirements, you can enable or disable any of these options. To disable any option, you can untick it.
Conclusion
Nowadays, almost all chat app provide polling options as it is a great and simple way to decide without making a lot of mess. Sadly Apple doesn't allow polls by default for some unknown reason. Lucky for you, we just told you how to do that by installing Polls for iMessage app. If you have a group chat created, you are ready to go!