Is it possible to get Snapchat on a PC without using BlueStacks emulator? Yes, it is possible. This article will show you several methods by which you can use Snapchat on your Computer.
Can Snapchat also be used on PCs? This time, the answer is a big yes. But if this question had been asked in the past, then maybe the response could have been No. To get Snapchat on the pc, you must download an android emulator.
There are many emulators, with Bluestacks being the most popular. But is it necessary to download Bluestacks? No, for sure not. Here, you will get all your answers. We will give you several alternative emulators to get Snapchat and run on your PC without Bluestacks.
How to get Snapchat on your PC without Bluestacks
For Snapchat users, it is curious and can be a great opportunity if you can also use their favorite messaging app on their computer or laptop. And we understand that you might be sick of using Bluestacks to run Snapchat and want to try something new. So here we have listed some other alternative emulators other than BlueStacks that you can use to get Snapchat on your Windows PC.
NOX Player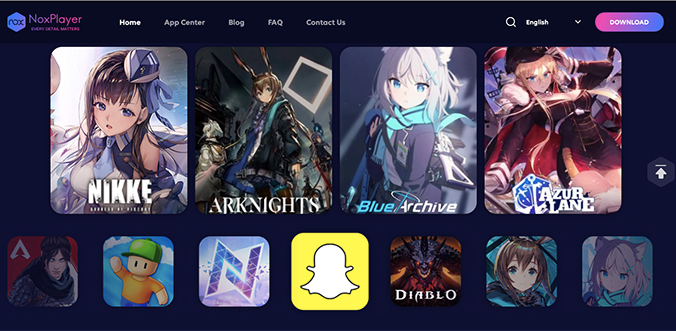 One of the most-marketed Android emulator. The emulator gives you a user-friendly interface and the best performance. It can work with Windows and Mac operating systems and has built-in keyboard mapping. It can help you get Android games and applications, including Snapchat.
Remix OS
Remix OS is another member of the list of Android emulators to get Snapchat on Laptop and PC. If you want to get rid of Bluestacks and try new software, then go with it. However, Remix OS has good features, you will require at least Intel i5 Processor, 8GB Ram, and 5G or more space on your drive.
KOPlayer
KOPlayer has superior features that allow it to outperform its competitors in the market of Android emulators for Snapchat. The emulator gives smooth velocity on PCs because of its x86 design. You will also get access to free downloadable content with it. It also allows you to record and share gameplay online directly.
ARC Welder
If you are an active tech person, you must know ARC Welder. It is pretty different from other Android emulators. You will not require any special software for this. It can perform multiple tasks simultaneously and bring up updates consistently.
MEmu
In addition to other emulators, MEmu is also among the best Android emulators for getting Snapchat. It will give you a fully endowed desktop experience and work on all Windows devices. You also can share files between your PC and phone using MEmu.
GameLoop
If you're still unsatisfied with previous simulators, this one will be perfect for you. GameLoop is the best Android emulator for Windows desktops, capable of providing an Android experience on any PC. If you are a gamer, it can also make your gaming experience faster and easier.
2 Best Emulator to run Snapchat on your Windows PC
NOX Player, KOPlayer, and ARC Welders are the best emulators to get Snapchat on PC. Let's take you through how you can use Snapchat on them!
How to install Snapchat on Windows using NOX Player
NOX Player is an Android emulator that lets you install Snapchat on your PC via its built-in Play Store.
Visit NOX Player official website, download and install the app on your PC.
You will be prompted to enter your Google Account credentials.
Now search "Snapchat" in the google Play store using NOX.
Install Snapchat from the Play Store and locate it in the NOX interface home.
Further, you can use Snapchat by clicking on its icon on your Nox home.
How to run Snapchat on your Windows Desktop using KO Players
KO Player has various unique features and is so user-friendly that it gives smooth velocity to run apps.
Download and install the KO Player from its official website.
Input and verify your google account credentials for Play Store.
Go to KO Player interface and open Play Store.
In the Play Store search box, enter Snapchat and install it.
Snapchat will now add to your KO Player home and you can use it anytime on KO.
Conclusion
Snapchat is the favorite app for internet users, it's exhilarating to share daily life streaks with your friend, and it's a great chance if you can also use your PC to share your things through Snapchat.
We know you have used Bluestacks before and are looking to get some other alternatives for it. And we also know that our above guide has helped you how you can get Snapchat on your PC.
FAQs
Can we use Snapchat on a PC without BlueStacks?
For this question, our answer is, Yes, You can. It is not necessary to download BlueStacks to get Snapchat on your PC. Instead, you can use any other alternative we have given above.
How to get an emulator on a PC?
We have given step-by-step instructions to download Android emulators on your PC. You can go through the above article section and decide on an emulator you would like to install on your desktop.
Is it illegal to use an emulator?
No, it is not illegal to use or download any emulator on your device. Many emulators are available on the Internet, some of which are free and some are not.