Since the latest iPhone offer an edge-to-edge display, using them requires lots of finger gestures. Everything from the navigation to the control center access is done with the help of intelligent gestures.
Swipe up is one of the most used gestures on iPhone; without it, your iPhone becomes almost inoperable. There can be several reasons behind the gesture's malfunction. Follow these quick solutions to fix swipe up to unlock on your iPhone.
Why is swipe up not working on my iPhone?
In most cases, The Swipe-up glitch is mainly caused due to two reasons:
Software or display issues.
A cracked or damaged screen can lead to the gesture's malfunctioning as the touch sensors may be damaged.
Moreover, a dirty screen protector might cause the issue.
However, if your iPhone's display has not been damaged recently, software bugs may be another possible reason. A recent software update may bring a few bugs and glitches with it.
Apart from these, there can be some more reasons behind the Swipe-up glitch, touch screen issues, system settings, damaged touch sensors, dust and debris, exposure to liquid, etc. All in all, these many reasons can lead to the Swipe up not working issue on iPhone. Well, you can still fix it by using the following effective methods.
5 ways to fix Swipe up or down issue on iPhone
Let's look at a few solutions to help you fix your iPhone swipe up issue!
Force Reboot iPhone
Rebooting your device is undoubtedly the easiest way to eliminate minute bugs. You can simply hold power and volume up buttons for 3 to 5 seconds to restart your iPhone. However, sometimes your device may refuse to shut down for certain reasons. Hopefully, a special key combination comes in handy in such cases. To do so, follow these quick steps.
Press the volume up key.
Hold the power/side button until the Apple logo shows up.
Release once the Apple Logo appears.
Restarting your device will fix a few glitches and bugs. If still, the problem persists, try using the following method.
Toggle on Control Center
If you are having trouble swiping up your iPhone when your phone is locked, the Disabled control center might be the reason. Check out these steps to quickly enable the control center on your lock screen.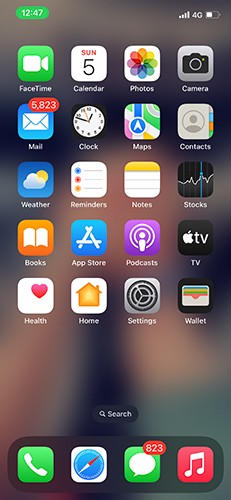 Head over to Face ID & Passcode.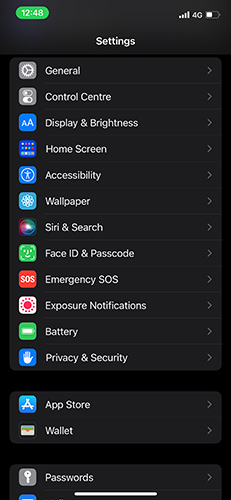 If prompted, Enter your device passcode.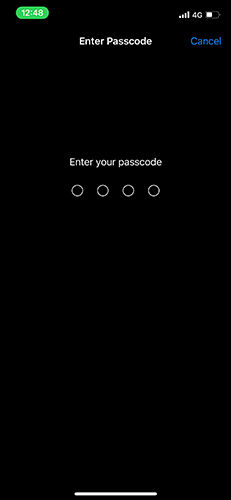 Toggle on Control Center.
You have now successfully enabled the control center on the lock screen. But if the swipe-up gesture still doesn't work, then enabling the control center within Apps might help you out.
Toggle on Control Center within Apps
While enjoying multimedia or games on your iPhone, you may have accidentally opened the Control Center. However, iPhone does have the option to prevent that from happening. You can disable Control Center while using certain apps on your iPhone. But this might cause some issues while swiping up your device. You can re-enable the Control Center for any desired app by following these easy steps.
Head over to Settings on your iPhone.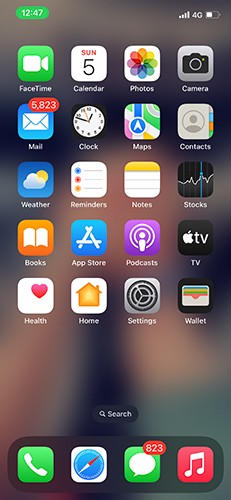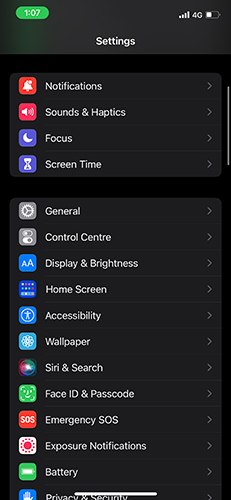 Toggle on Access Within Apps.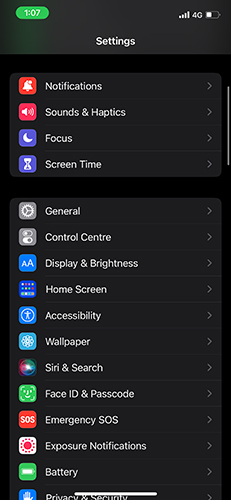 By now, you might be able to unlock your iPhone by swiping it up. Unfortunately, if it doesn't, try the following steps, which will surely help you.
Update iOS 16.5
Usually, when Apple rolls out any new IOS version, plenty of bugs follow. However, Apple does fix them within a few weeks by releasing patches. Users reported battery drain issues with the release of IOS 16, which later got fixed. If you are running an old IOS version on your device, follow these steps to update your iPhone to the latest software.
Open the Settings app on your iPhone.
Navigate to General and tap on the Software Update; here you can check for any available updates.
If any update is available, tap on Download and Install.
Updating your device's software might fix the swipe-up issue, if it doesn't, the following method is for you!
Reset All Settings
If none of the above-listed solutions workarounds, Resetting Settings will surely do the thing. Over time with usage, we tweak certain settings, which may cause issues accessing swiping up your device. Follow these steps if you want to get your iPhone back to factory settings.
Open the Settings and go to General.
Tap Transfer or Reset iPhone > Reset > Reset All Settings.
Enter the Passcode.
In a few seconds, your Settings will be back to the factory settings. Now you can easily unlock your iPhone by simply swiping up.
Conclusion
Apple is aware of the Swipe-up glitch and has recently released IOS 16.5 to fix it. However, some users are still facing the issue. We recommend resting your device's settings until any patch is released. Try the above troubleshooting methods, and if still the problem persists, you may contact Apple Support.