iPhones are one of the most sought-after smartphones in the market. Many people line up outside its store on its launch date. It is considered one of the most reliable and desirable smartphones on the planet. It is also popular because of its great software and performance.
But at times, iPhones also malfunction. iPhone users sometimes use the backup feature to safeguard their important data if their iPhone stops working. It also ensures that a new device can be easily set up later.
Most of the Apple users use the iCloud storage that Apple offers to its users to protect their data.
iCloud is a cloud storage platform Apple offers for its iOS and Mac products, and it is only for the Apple users who use the Apple products.
There is ample storage space in iCloud for a general Apple product user. So, storage space is not an issue. But sometimes, Apple users get a warning message saying that iPhone backup failed but users have enough storage space. It comes with a message that there is not enough space in iCloud. But actually, there is enough storage space in the iCloud.
So, in this scenario, you need to follow some steps to ensure that your iPhone backup is completed successfully.
Lack of sufficient battery charge on your iPhone
It can be a major issue for those who are facing this issue. If your phone battery is not at an optimum level of more than 50%, this can also create a warning sign. So do check your device's battery percentage and charge it completely before proceeding with your backup.
An issue in iCloud backup settings
Despite having a good internet connection and ample storage space, iCloud makes such errors. In such a case, you can check your iCloud settings to ensure a smooth backup process.
In such a case, you can follow the following steps to get rid of such an issue:
Go to the Settings and Tap on the user profile.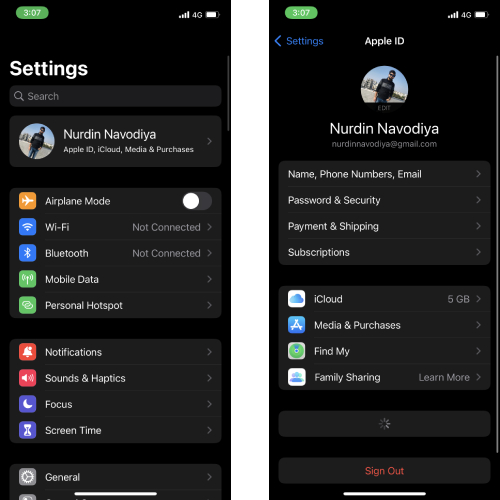 Now, tap on iCloud and click on iCloud Backup.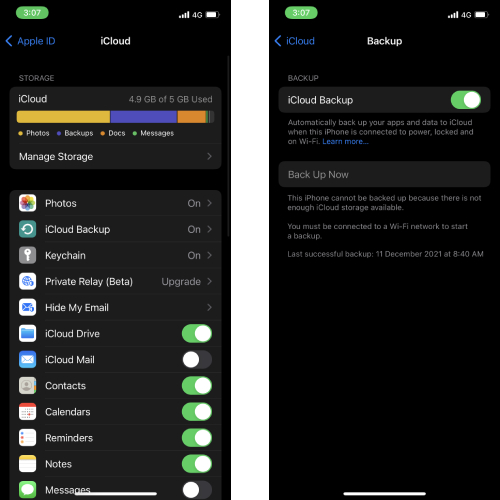 Click the iCloud Backup toggle to turn it off and then turn it back on.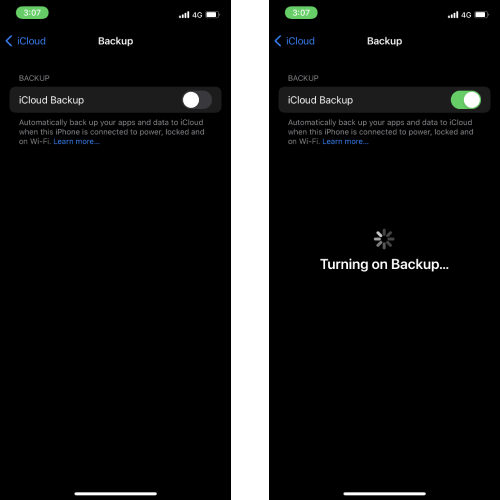 These steps will now take care of the issue related to the iCloud settings.
Logout and log in to your iCloud account
At times, it can also happen that the Apple account cannot recognize your backup or the backup file. In such a situation, you can sign out and sign in to your Apple account to repair the issue.
For this process, you can follow the following steps to get rid of the dreadful message:
Open the Settings from your iPhone.
Tap on your name in the Settings app.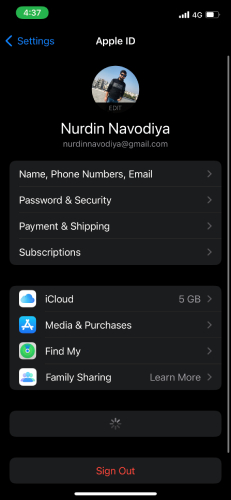 Now, go to the end of the options and tap Sign Out.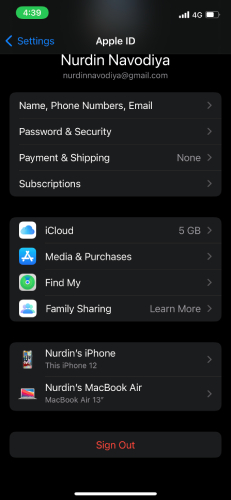 You will need to enter your Apple ID password and click Turn Off.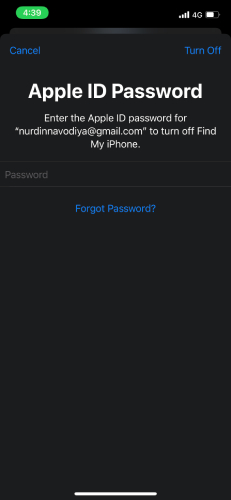 Now, sign in to your Apple account.
This step will likely repair your issue and can get you back on track.
Reset All your Network Settings from your iPhone
iPhone backups do rely on a good internet connection. If you do not have good internet and a stable internet connection, this can also create problems in your backup. Therefore, make sure that your internet connection is working properly. There is also an option to use a Wi-Fi connection if you have one because Wi-Fi is more stable than mobile data.
But by chance, if you use a good internet service for your phone, you still get such issues. Then you can reset your network settings and then retry.
Go to Settings and tap on General.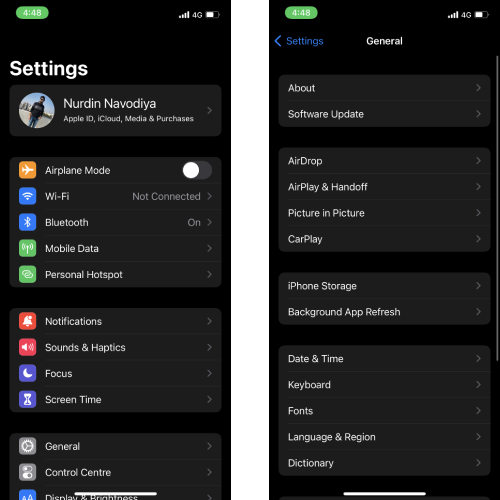 Now, click on Transfer or Reset iPhone and tap on Reset.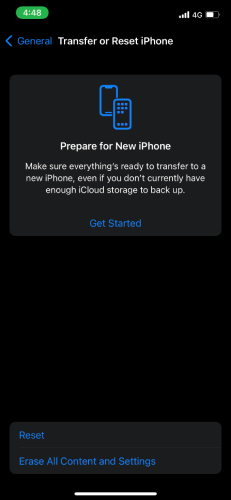 Choose Reset Network Settings and enter Passcode.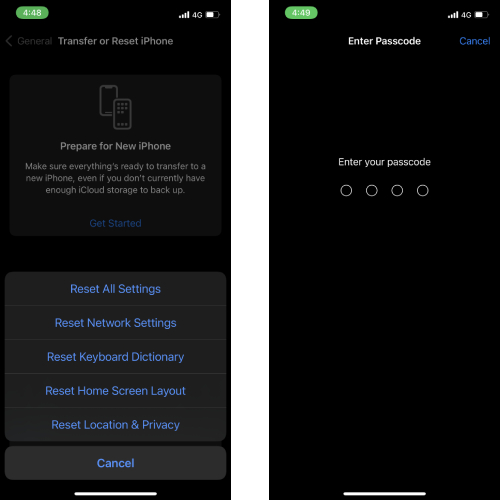 iTunes to the rescue
Now, you can use iTunes to backup your iPhone. This is a foolproof method to back up your iPhone.
For this, follow the following steps to back up your phone:
Go to the Apple website and download iTunes software and install it on your computer.
Now, connect your device to the computer.
Open iTunes and click on your device.
Tap on Summary.
Click on Backup Now.
These steps will easily help you to back up your iPhone. The biggest advantage of using iTunes is that allows you to backup your device's data on your local computer.
Use Third party software to backup your iOS device
If all of the above fails, you can use third-party apps for help. There is software named AOMEI MBackupper, which helps backup your device without any internet connection. The one advantage of using this software is the option to back up selected files of your devices.
To use this software, you can follow one of the two points below.
Using complete backup
To complete this task, you can follow the following steps to back up your iPhone:
Go to the website of AOMEI MBackupper.
Download and Install the software.
Connect your device to the computer and open the software.
Click on "Full Backup".
Select a location to store the backup file.
Tap on Start Backup.
These steps will now backup your iPhone to the desired location. After the process is complete, you can disconnect your device from the computer.
Using Custom backup
To complete this option, you need to follow the below-given steps to backup your iPhone:
Connect your iPhone to the computer using a USB cable.
Open the AOMEI software.
Click on Custom backup.
Select the files which you want to back up on your computer.
Select the desired location where you want to store the backup file.
Now, the above steps can easily help you to solve your problem of not having enough storage space in iCloud messages during the backup process.
Last resort Apple Care
Apple Care can take care of the issue you are facing with your Apple product. If none of the steps mentioned above works for you, then you can take the help of Apple Care. They will guide you through the technical details and help you with the cause of the issue.
Conclusion
We hope that you enjoyed our article on backup for iPhone. Even though your phone may have enough storage, sometimes due to many issues the backup gets held up. So we catered to you all the ways through which you can enjoy seamless backing up on your iOS device (iPhone and iPad). Do not forget to share your feedback in the comment section below.
FAQ About Backup Failed issue in iCloud
Which is the most frequently used backup software for Apple iPhone?
People often use iTunes to back up their software. That's why iTunes is considered as the most frequently used back up software for Apple iPhone.
Which iPhone faces backup issues more frequently?
The old versions of iPhone that were launched before 2016 faces the most backup issues. Apparently you can follow our guide above if you are facing backup issues on iPhone.
Which is the most popular iPhone currently?
Apple is launching various models of iPhone every year. But with compatibility and stability against budget, iPhone 11 is the best and most popular iPhone. It has less backup issues. Also the iPhone 13 is moving forward with cloud storage.