When you want to save essential things on your iPhone or fake a conversation for any reasons, you can message yourself on any iOS. If you are thinking about how to Text yourself in iMessage on iPhone and iPad, then we have all covered you.
How to text yourself on iMessage in iOS 16?
When you text yourself on your iPhone or iPad, the messages are accessible to all the Apple devices you are signed in to! This enables you to save important information like when you need to save up any of your assignments, passwords, or similar to access it over iPad or MacBook! To prank your friends or to trick them, you would often need to fake conversations, and Apple lets you do so!
Follow the steps given below to text yourself in Messages on iPhone and iPad:
Open the Phone app and go to Contacts.
Search your name and click on the My Card displayed.
Ensure that all credentials, especially email ID, are filled up.
Close the Phone app and now open the Messages.
Tap on the Pen and paper option on the top-right corner of the display to Compose a new message.
In the "To" section, enter your name as added in "My Card."
Now, type the message that you want to send to yourself.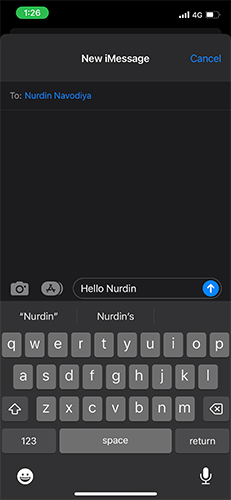 The coolest part is that it even appears in the received messages of your contact in the Grey colored text bubble.
Similarly, you can even delete messages that you have sent to yourself. Besides, you can do so either from the blue text bubble you sent or the blue text bubble you received. If you are facing a conversation, then deleting the blue part helps!
Follow the steps given below to delete an iMessage sent to yourself:
Tap and hold on to an iMessage in your chat head.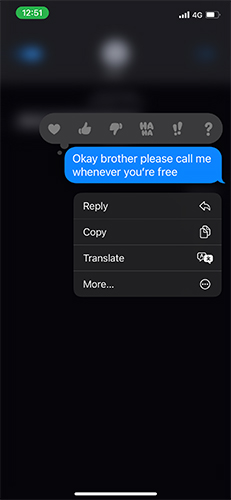 A menu pops up; tap on More.
Now, click on it to delete the message.
Then tap on Delete Message when asked to confirm deleting the selected message!
Alternatively, you can tap and hold messages to select them and then press the trash icon on the screen to delete the message. You will then be asked to confirm your action of deleting the given number of messages through a prompt box.
Final Words
If you are looking for how to Text yourself in iMessage on iPhone and iPad, you would have the answer. Unlike other apps like WhatsApp or Facebook Messenger, you do not need an exceptional mind to text yourself. Further, on other apps, you can text yourself, you cannot fake a conversation as it will not be listed in received messages. You can delete the sent messages quickly as per your prerequisites.